Events »»» HeartTouch Thailand - Jan 2024
HeartTouch for Well-Being & Vitality
A Mindfulness & Compassionate Touch Based Approach

A six day relaxed holiday / retreat in a beautiful location combining qi gong, embodied mindfulness, practices to rejuvenate the bodymind and compassionate touch training.
There will also be opportunities for private bodywork sessions and one to one well-being coaching.
Sometimes what you need is to just walk away from it all. Learn some new skills to take care of yourself. Grow as a person. And share good times with others in a beautiful place...
Island Yoga, Koh Yao Noi, Thailand, January 22nd - 27th 2024: Visit the School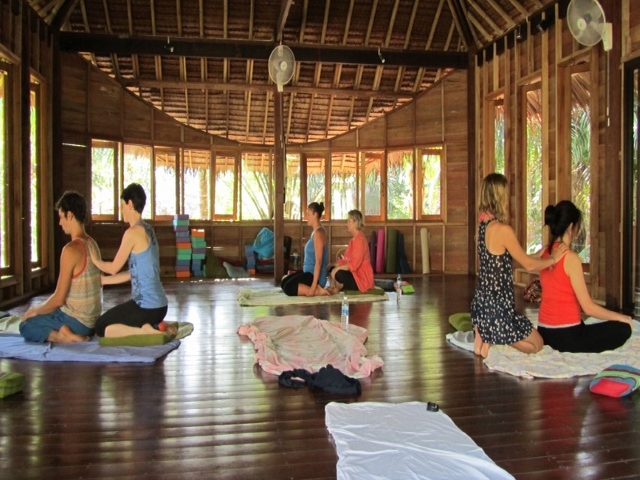 Anthony teaching HeartTouch at Island Yoga
Embodied Mindfulness is a way of being in which you are fully connected with your body and you feel safe.
Your mind is quiet and present to your experience of life happening that moment and your heart feels warm and open to yourself and to those around you.
This is a state of well-being and good feeling.
It is also a state in which we are more likely to access the creative flow, relate more intelligently and effectively with others and deal with general life demands in a more resourced and enjoyable way.
We will explore together how mindfulness & touch based connection practices can help us to move closer towards this state of well-being.
About Anthony: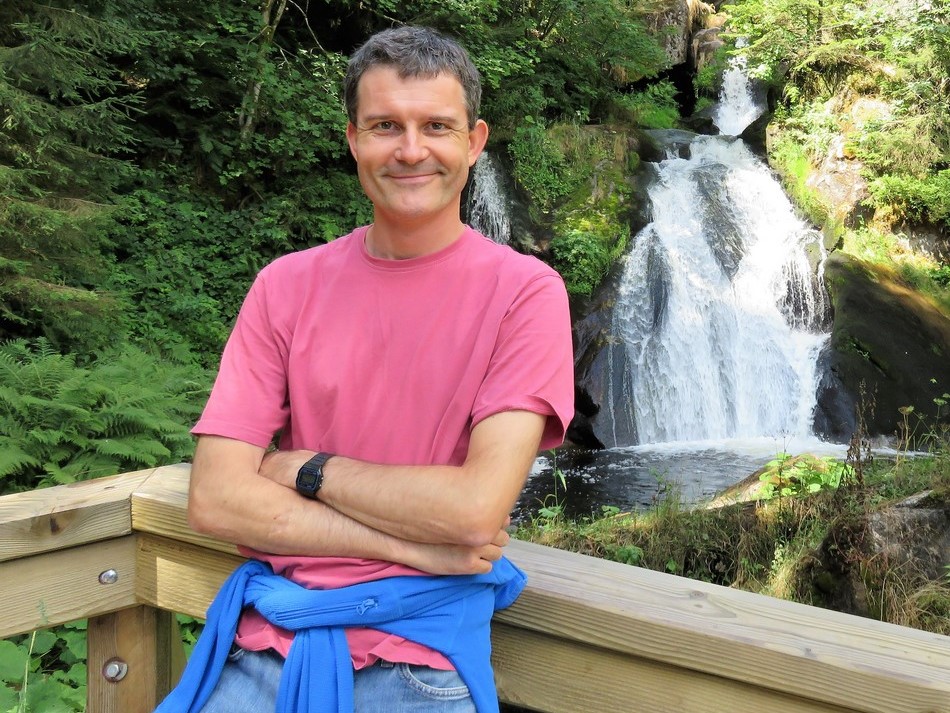 Anthony Fidler
I graduated from Cambridge University in 1992 with a degree in computer science & management along with a breakdown.
Though I was able to work for a few years after this, first as a financial auditor and then a computer programmer, I had to change my life.
I travelled out to Asia to find what I needed to relax and heal myself and never looked back.
Over time, I became a qualified Mindfulness teacher and Tai Chi & Qi Gong teacher. I have been teaching professionally since 2015.
I am also an experienced student of the late Akinobu Kishi , the founder of Sei Ki and have been teaching his amazing touch therapy in my own way since 2013. I have spent twenty-five years exploring these fields with total dedication.
I found my own ways to recover and live a full life and now share what I learnt with others experiencing distress or simply wanting to feel more alive in themselves.
I also help therapists to enhance their capacity to feel and work more sensitively with their clients in trauma sensitive ways.
This is my joy and what I do...
Click here for more on Anthony's background and experience
Details:
The retreat is being hosted by Anthony Fidler
This workshop is open to anyone experiencing chronic stress, in need of a life reset / boost or simply interested in connecting more authentically with themselves and others and having a good time. Therapists are very welcome.
Group size:
I can only accept 6 people for the full course which includes morning and evening Qi Gong by the sea.
If you just wish to attend the daily HeartTouch sessions then I can accept up to 20 participants.
So book now to secure your place...
Students just attending the HeartTouch sessions will have the option of attending the Island Yoga sessions if they wish. Please arrange this with Island Yoga directly . Our classes will fit in between the daily classes.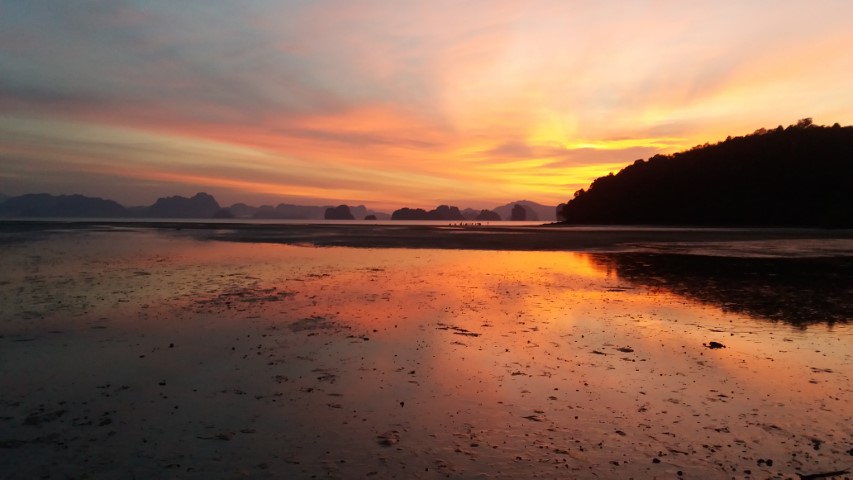 Sunrises at Tha Khao Bay can be spectacular
Course Schedule
Sunrise and sunset you can learn Tai Chi Qi Gong with me near the beach for an hour each session.
In between we will meet for a couple of hours each day for the HeartTouch classes.
Other time you will be free to relax or enjoy the beach.
Evenings are free to enjoy the local restaurants, socialise and relax.
On days off there are opportunities for boat trips around Phang nga bay.
HeartTouch Course Structure
Fly to Phuket and settle on Koh Yao Noi by Sunday 21st January
Mon 22/1
'It is good that you are' - Exploring Embodiment - 3hrs
Tue 23/1
'You are a human being not a human doing' - Cultivating A Healthy Mind - 3hrs
Wed 24/1
'You are also the dark side!' : Handling what you don't like - 2hrs
Thu 25/1
'Because the Wind loves to caress the Leaves of the Trees' : Handling what you like - 2hrs
Fri 26/1
'You are An Open Heart - Abide where there is no Abiding!' : Life Wisdom - 2hrs
Sat 27/1
'Love is all there is' : Compassion for Self & Others - 2hrs
Sun: Enjoy boat trips, beaches and island life.
Fly home or stay on longer if able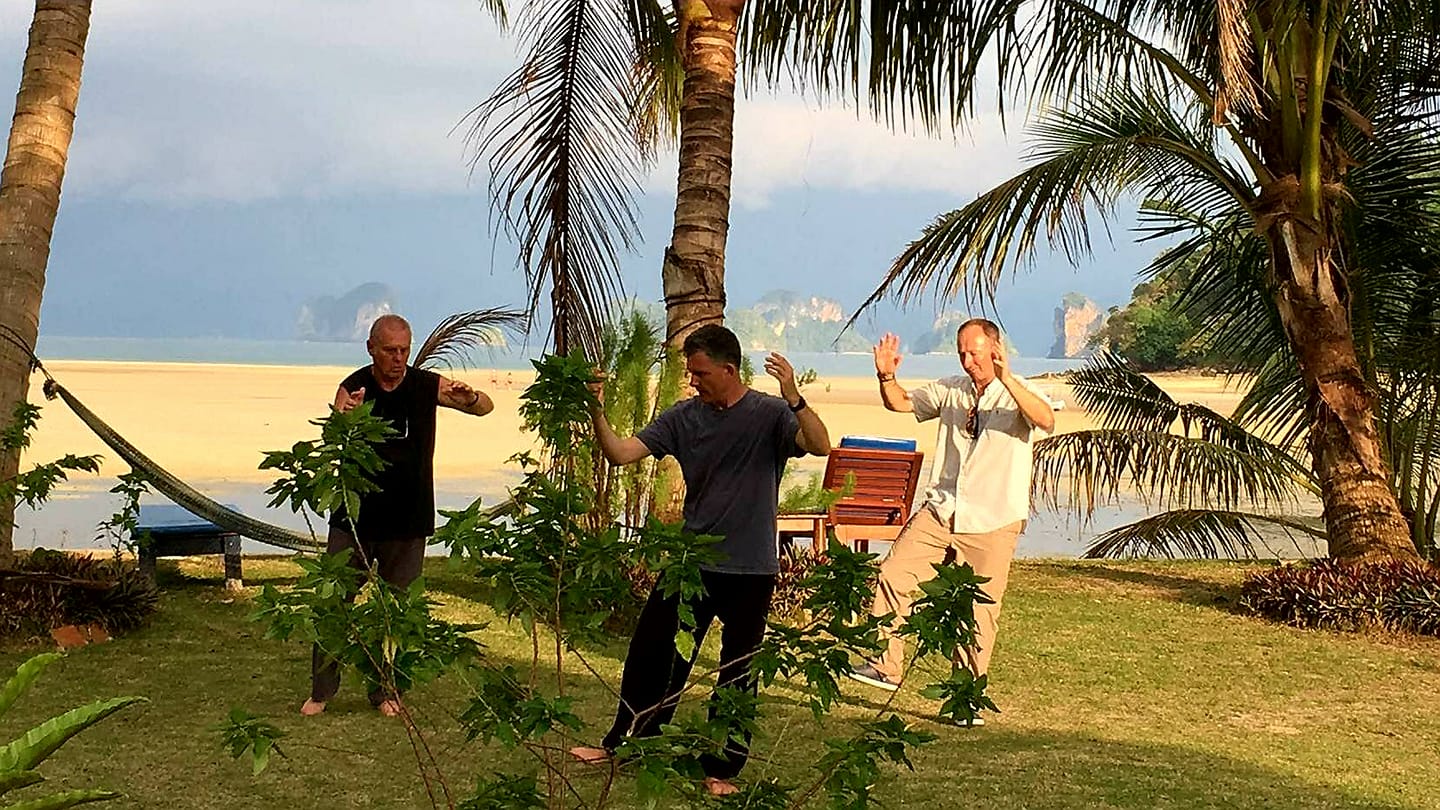 Our Tai Chi Qi Gong area with a view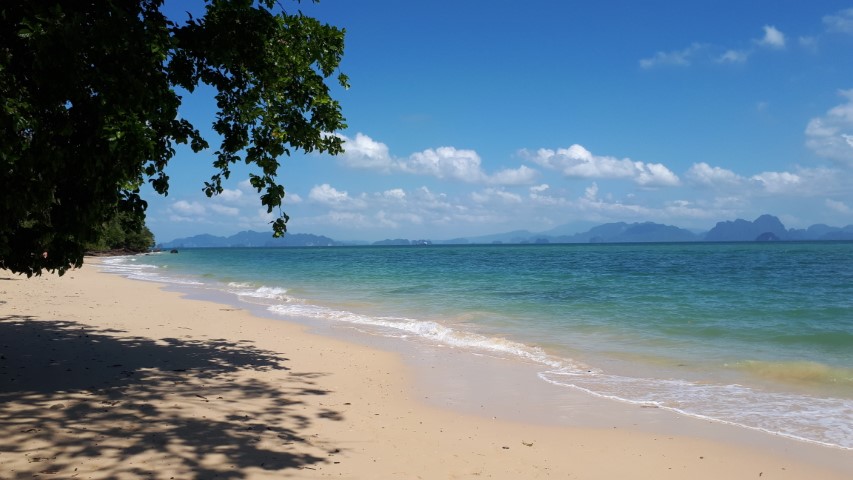 Another local beach
About Koh Yao Noi
Koh Yao Noi is an island in the middle of Phang nga Bay, near Phuket. It is considered one of the least spoilt Thai islands, yet is completely beautiful. This is not the party island, it is quiet. But there are good tourist services, plenty of resorts to choose from, shops in the main village, restaurants all around to visit. The island has a range of levels of accommodation from backpacker bungalows to five star luxury hotels. You can cycle around the island in one to two hours depending on how fit you are (there are some hills).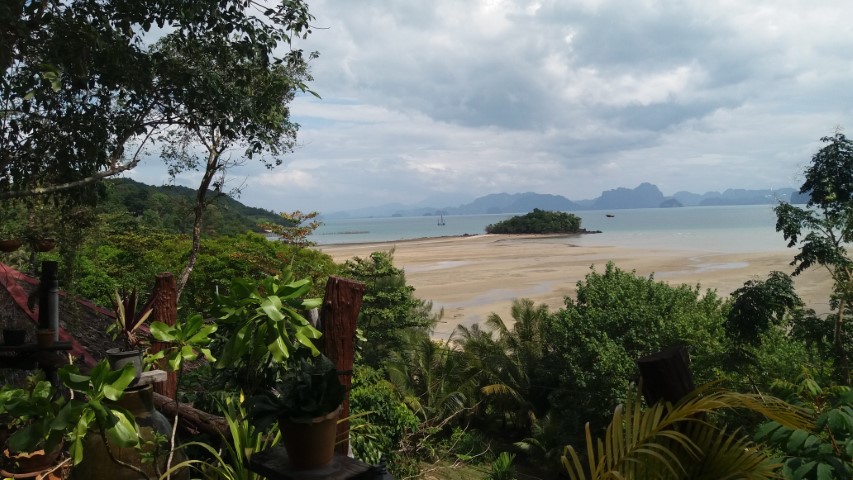 View of Tha khao Bay
Thakhao beach
Pricing:
26 hours of small group tuition
Morning & Evening Tai Chi Qi Gong: 12 sessions of 1hr each
Mid-Day HeartTouch: Two sessions of 3hrs, 4 further sessions of 2hrs => 14hrs
Full Course Fee: £520, 50% Deposit: £260 to secure your booking.
HeartTouch Only Fee: £280, 50% Deposit: £140 to secure your booking.
Participants will be able to book private Sei Ki HeartTouch sessions with me for £50 (1-1hr 1/2) during the course. (This is much less than my European rate)
Personal mindfulness based well-being coaching sessions will also be available for £50 (1-1hr 1/2).
Nb. The course fees do not include travel costs, food or accommodation.
Students can book accomodation at one of the other resorts close to Island Yoga. I will be staying at Baan Thakhao Bungalow, 100m down the beach from Island Yoga, where we will practise the Tai Chi Qi Gong.
Accommodation Prices range from £12 / night for simple bungalows away from the sea front to £50 / night for luxury bungalows with AC and sea views.
We will be meeting in high season so its important to book early. I will help if I can.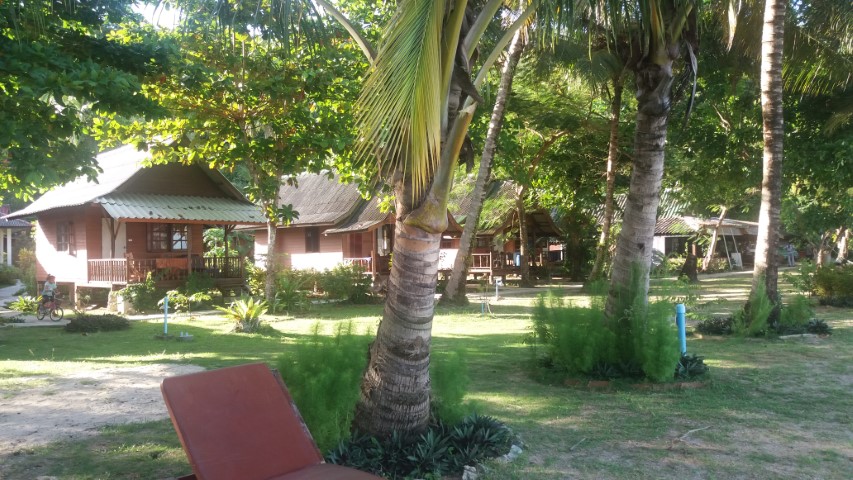 Fan Bungalows at Baan Thakhao Bungalows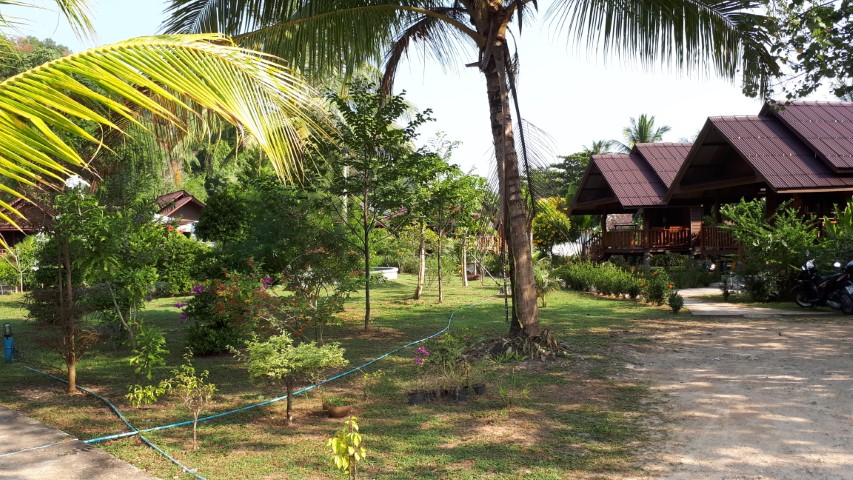 AC Bungalows at Koh Yao Seaview
Getting There & Away
Flight to Phuket: Thai International offer direct flights to Bangkok on the Friday 27th night or Saturday 28th morning from London or Frankfurt and then a transfer to Phuket. Price about £1000. A
Take a luxury taxi from Phuket airport to Bang Rong Pier: £18, 30min
Take the speedboat taxi shuttle from Bang Rong to Koh Yao Noi: £5, 30min
Take the waiting share taxi to the resort: £2.50, 30min
I personally try to time my flight so I can go straight to the island from the airport.
This either means taking the Saturday morning flight from Europe arriving Sunday morning in Thailand, or if necessary taking the Friday night flight to Bangkok, spending the night near the airport and then travelling to Phuket on the Sunday morning.
Bang Rong Pier Speed boat ferries bring you to the island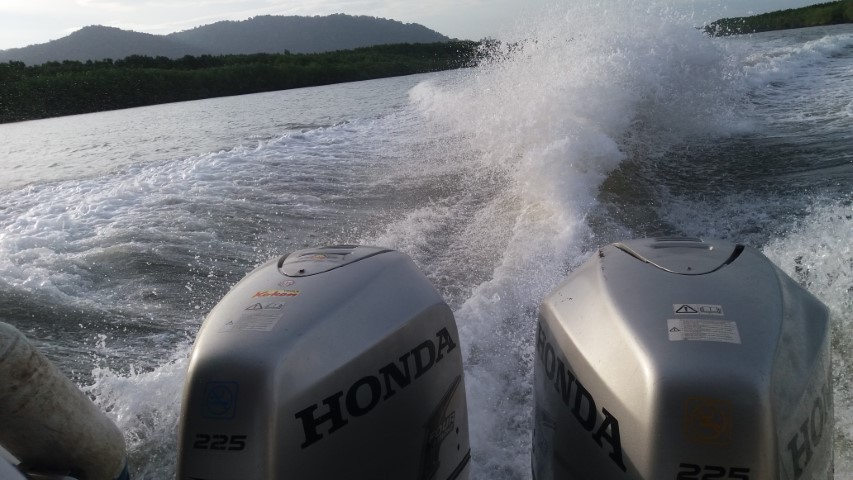 Arrival in style. Its about 30min at speed.
Registration Process:
The event is by invitation. The application process is as follows:
Please apply by contacting me
I'll send an invoice for the retreat deposit which can be paid by bank transfer. I have both a Sterling and Euro account.
I will then confirm your place on the workshop.
I'll invite you to meet me online for a complementary 1/2 hour familiarisation session.
I will send an invoice for the remaining fee on December 22nd payable within two weeks please.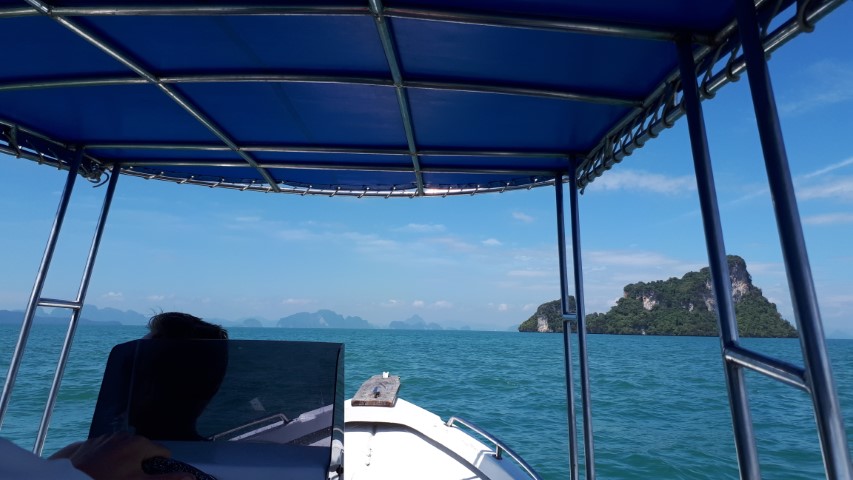 Boat trips around Phang Nga Bay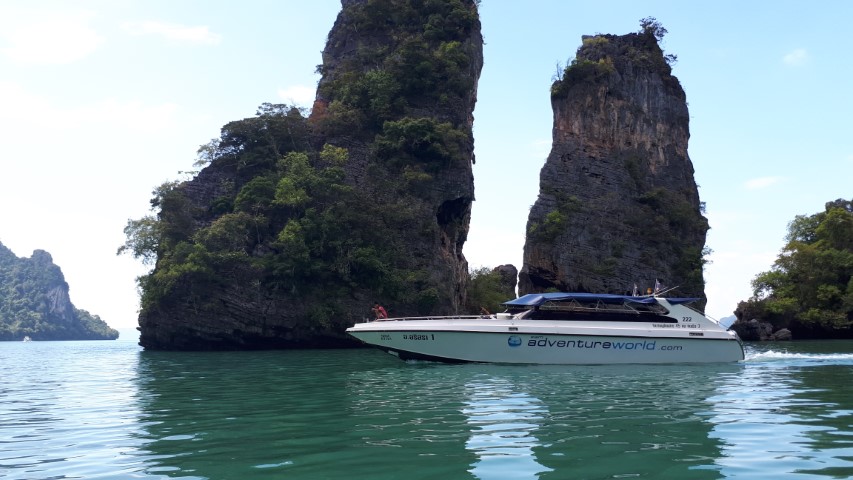 Boat trips around Phang Nga Bay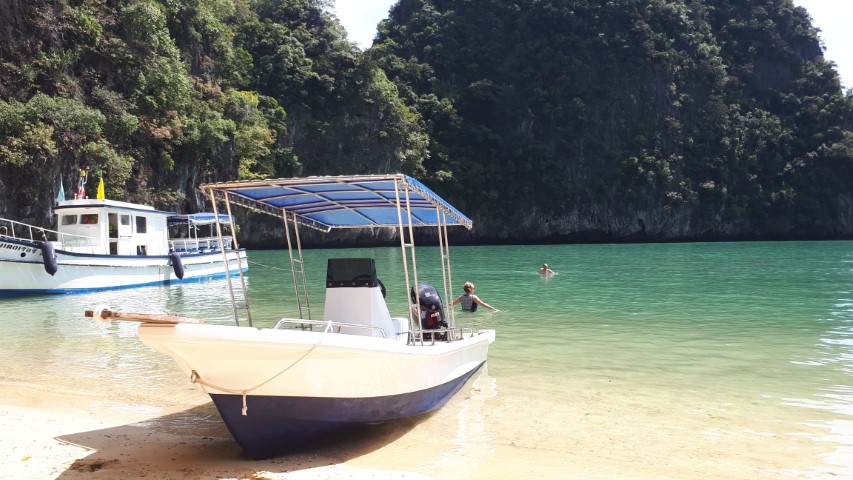 Boat trips around Phang Nga Bay
Boat trips around Phang Nga Bay
So please get in touch if you would like to attend: Contact EasternPeace
Other Events
Upcoming Events:
---
Recently Completed: