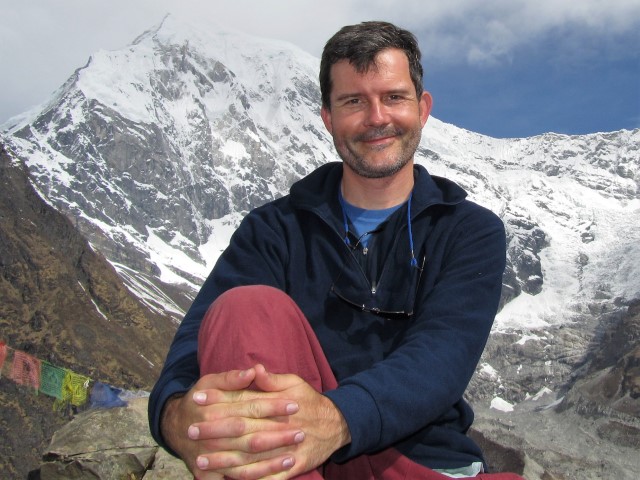 About EasternPeace
My name is Anthony Fidler. I'm a practitioner of Yang & Chen Style Tai Chi and have had a lifelong passion for Buddhist meditation, especially Vipassana and Zen.
I have also had an extensive 'spiritual' journey dealing with my personal emotional and mental health and over the years gained deep insights into working with trauma, abuse, anxiety and what is generally called spiritual emergency / psychosis.
Associated with this have been extreme physical challenges. My body is still learning how to relax, let go and breathe naturally and my nervous system requires continuous maintainance but the practices are helping. I do them every day as I have for the past twenty years.
I also have a deep interest in Japanese energy based bodywork and healing and am very confident to call myself a spiritual healer. I practice and share Akinobu Kishi's Sei Ki.
My vocation now is to support others in their transformational journeys, whether that be from a position of good physical and mental health towards greater sensitivity and vitality or from a state of extreme distress and suffering including psychosis.
Vipassana Meditation, Zen and Mindfulness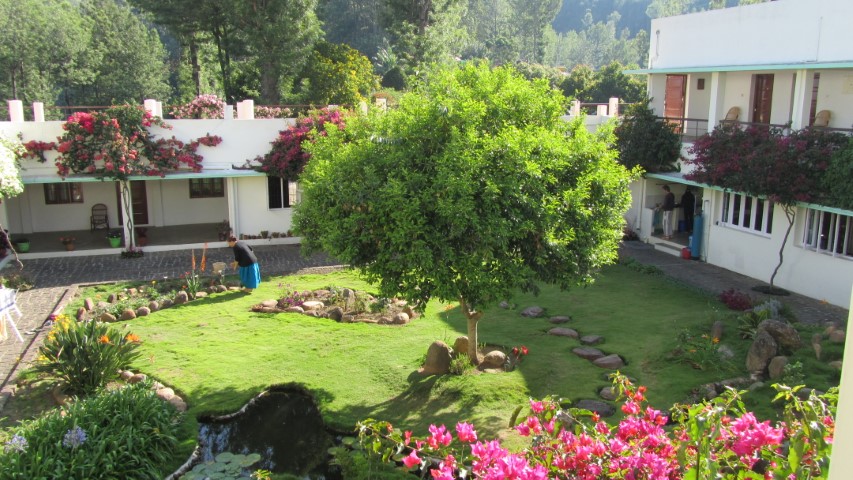 Bodhizendo Zen Centre Courtyard Garden, South India
I picked up my first spiritual book, in a £1 book bin outside a shop in Cambridge in 1990, while I was a student there.
It turned out to be a Zen book - 'The Transmission of the Lamp' and was a translation of the enlightenment conversations between Chinese Chan (Zen) Masters as they passed the lineage on from one to the next, opening their minds with incomprehensible strange phrases and gestures.
It sat on my book shelf and for a while, my brother's, for over seventeen years unread, until finally I awoke to an intense excitement to read it, while out in Asia.
I couldn't wait to fly home and pick it up and returned to China with it soon after, to read it a few lines at a time over many months.
I had a very strong Burmese Vipassana practice from 1997 - 2001 and along with my Tai Chi this formed the focus of my life during these years, apart from some English teaching which came to the fore in 2000 / 2001.
I felt an urge to explore Mahayana after this, and touched the edges of Tibetan Buddhism and Zen for many years until in 2009, I found myself unexpectedly at a Zen Centre in South India.
I stayed at Bodhizendo for two months in 2009 and continued my journey with the same teacher in 2010, 2011, 2012 and 2013 when I felt able to take the plunge and make a commitment to the Sangha.
I continued to spend a month or so in retreat there each year through 2014-2020 and on many occasions served as zendo leader taking responsibility for the retreats and daily meditation. This is a part of my life and who I am.
I qualified as a Mindfulness Teacher with Breathworks in the UK between September 2013 and October 2015 and have since offered courses of my own creation introducing important aspects of the Eastern teachings within the general mindfulness framework.
I am especially interested in how life suffering can be transformed into spiritual journey.
Yang & Chen Tai Chi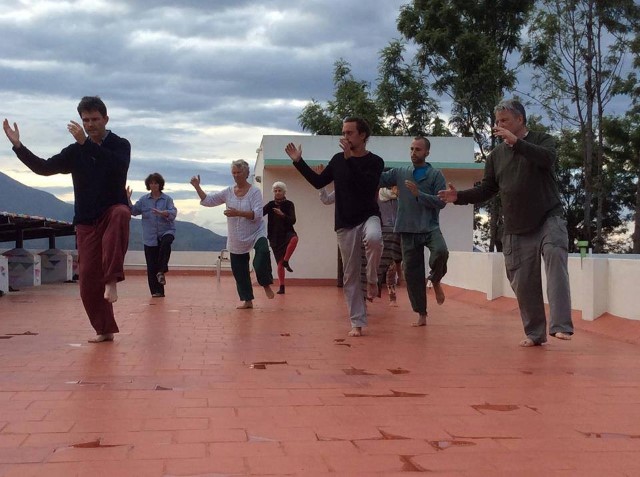 Anthony teaching Tai Chi at Bodhizendo Zen Centre, South India
I've been very fortunate over the years to have been able to carry out most of my Tai Chi training intensively in China, on a personal basis with good teachers.
My Tai Chi encompasses both Yang and Chen and I am passionate about both.
I practiced Simplified Yang 24 & Competition 42 for ten years, but switched over to Traditional Yang Long Form in 2009. Yang 85 (108) is a beautiful form to do.
I also practised Chen Lao Jia 74 from 2005, eventually studying with Chen Zhao Sen, but switched to Chen Xiao Jia 64 (Chen Xin Style) in 2011, in the Kaifeng Lineage. Again it is a beautiful form.
Tai Chi hasn't come easily for me. In fact I would say I was so uncoordinated and broken in my energy flow that I was literally ill and the learning path has been really hard but in recent years, it has become much easier. Great changes are possible in life, with some effort and heart.
This journey has left me with a lot of experience and patience for teaching the Tai Chi and I am excited about sharing it with others in the future.
Sei Ki and Katsugen Undo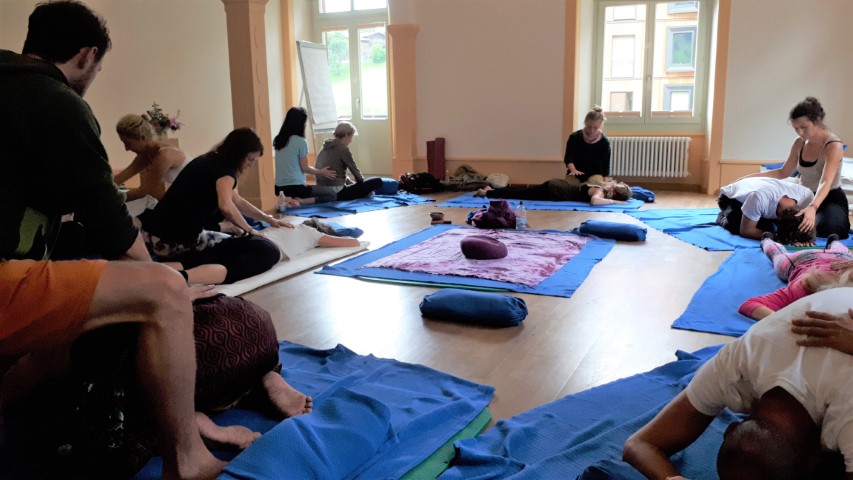 Anthony teaching Sei Ki HeartTouch at Kiental, Switzerland
I have had an interest in energetic bodywork for many years, in particular Akinobu Kishi's Sei Ki.
I first met Kishi Sensei in 2004 and continued to study with him whenever I could until his death in 2012.
This has been a deep and rich journey.
For many years it was just about my own personal exploration, but I started sharing it with others in 2013 and have taught many Sei Ki based workshops since then.
I also offer Sei Ki as a therapeutic treatment on a private basis.
Free & Easy Wandering
At heart I am a traveller. I am British and am settling in Europe now.
Still something inside me feels at home in India, the Himalayas, Nepal, Tibet, Thailand and China and everything I do seems to be inspired by the connections I've made on my many journeys in these regions.
Since my forties, I have started to find myself in my work which I see as being a manifestation in the West of my ongoing relationship with the East.
My name in Chinese is 'Eastern Peace' and I aspire to live up to it.
Related Websites
---
---
---
---