EasternPeace Tai Chi
Tai Chi means different things to different practitioners.
The goal of a student is to find a good teacher with values similar to their own.
I am particularly interested in the therapeutic and meditative aspects of Tai Chi.
I believe when taught in a sensitive and appropriate manner Tai Chi has much to offer people both physically and mentally.
It is far more than just a relaxation exercise though this on its own justifies the activity.
The postures and movements have an implicit naturalness and harmony to them, which when performed reasonably well help the release of tension structures from the body, and hence increase the energy and health of the person.
Emotions are attached to these tension structures and so in its own way Tai Chi, while relaxing the body structure has an emotional impact on the practitioner, creating more space for the individual to deal with reality in a calm and peaceful way.
At the same time it requires conscious movements all the time, and with effort this increases concentration skills and body awareness making you more alive.
This is why I do Tai Chi...
Contact me to arrange a one-to-one to see whether you can benefit from my work.
My Tai Chi Lineage
Traditional Yang Style Tai Chi: Small Circle with High Stance
My Yang Style Tai Chi is from an old lineage that combines the clean circular movements of Yang Xiao Jia (small circle) with the slow gentle performance common to most Yang Style Tai Chi.
The stance is high and movement is never forced, so it particularly suitable as a health Tai Chi.
My teacher Yang Dong Bao, learnt with his grandfather's teacher Master Zhou, when he was 95 years old. Master Zhou was a student at the Changsha Martial Art academy in the early 20th Century.
To learn this style the teaching had to happen before Yang Chen Fu became head of the Yang family as he taught a very different style and other teachers in the lineage would have deferred.
My teacher believes a general from the Forbidden City, who learnt with Yang Lu Chan and his sons may have taught at the academy. I've forgotten the name.
My Xiao Jia form is not like Yang Chen Fu's Brother's which influenced the Tai Chi passed down by Yang Chen Fu's elder son Yang Sau Chung, through his daughter Mary Yang in Hong Kong. I recognise this as a very strong lineage.
Chen Xin Style Tai Chi: Small Circle with Medium Stance
My Chen Style Tai Chi is again from my teacher Yang Dong Bao, who is a senior student of Shi Lei, a retired Chinese Communist General who invited Chen Kedi, one of the four students of Chen Xin to live in his house.
Chen Xin was one of the supreme masters of the Chen family effectively living like a Tai Chi monk dedicated to his practice.
He created the Chen family book describing the energy understanding behind Chen Tai Chi and senior Chen teachers go to this book for reference.
My Teaching Style
From my own experience, it has become clear that the key to learning well is to focus on developing a body and mind capable of quality natural movement.
Without this capacity, learning too many movements and forms just becomes an obstacle to progress rather than helping you.
My way to teach is through what I call the Tai Chi Foundations, which comprises:
Walking into Mindfulness - to develop sinking capacity and mindful presence.
Abdominal Training to develop one's centre.
The Joint Opening exercises to condition the body.
The Taoist Ba Duan Jin to open the body fascia
Circle Qi Gong exercises to develop Qi sensitivity and explore the upper body shapes of Tai Chi
Some Tai Chi meditative walks to explore individual movements
A short sequence from the beginning of 24 Form.
A short sequence from the beginning of 85 Long Form.
This is enough for the first two years of practice at least and may be sufficient for many people altogether.
Learning the complete forms of Yang 24 and Yang 85/108 Long Form is then just a matter of finding sufficient time together and is not so difficult.
I may also offer Chen Xiao Jia 64 to suitable students.
Tai Chi Based Movement Therapy
Having used Tai Chi as a therapy for myself for many years, I am very keen to see it introduced more widely into modern healthcare.
Tai Chi Based Movement Therapy is essentially the same as my Tai Chi Foundations, but with attention given to adapting the Tai Chi and the teaching method to the therapeutic needs of the focus group being taught.
Ideally classes will consist of individuals with similar conditions and needs.
I would be very interested to work with people experiencing Parkinsons, Stroke, Heart Attack, Fibromyalgia and early Dementia as well as the wider anxiety and confusion based mental health issues.
The list is not conclusive - I'm working 1-1 with a woman with Spina Bifida and severe osteoperosis and she really likes the sessions.
Contact Me to discuss your needs.
My Tai Chi Credentials
My experience of Tai Chi started in a minimal way while at University 1989-92, and then restarted in a life changing way in 1997 when I encountered my first teacher in Southern China.
I practiced every day from then on and returned to China specifically to study in 1998, 1999, 2000, 2001, 2003, 2005, 2006 and 2007 each time staying for 2, 3 or 4 months and having one to one classes each day, generally twice a day. My average training time would be four hours a day, sometimes six.
In 2009, I learnt Traditional Yang Long Form with Small Circles with Yang Dong Bao, letting go of my practice of Beijing Style 24 & 42. We continued our work together through the Autumn of 2010.
My training with Yang Dong Bao continued for further 2-3 month stays in China throughout the Spring and Autumn's of 2011 and 2012 and through the Autumn of 2013. Since November 2014 I have committed to spending a month a year with my teacher.
I now practise Traditional Yang 24, Traditional Yang Long Form 85 (Small Frame), Chen Style Xiao Jia 64 and Chen Style Da Jia 21.
Courses & Workshops
Tai Chi based Movement Therapy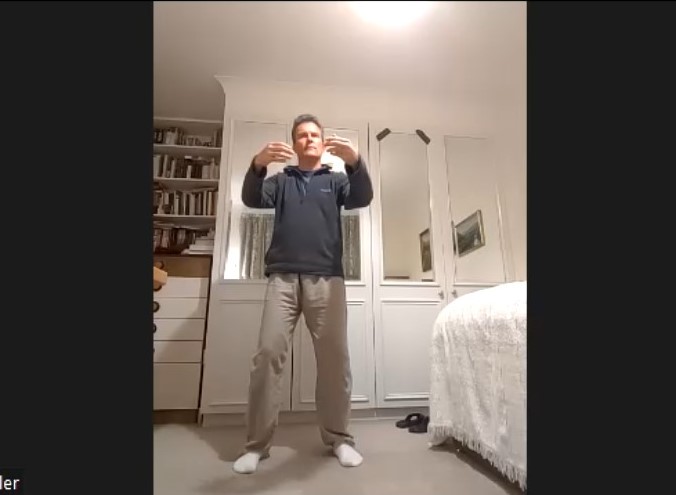 This is a very gentle class inspired by the needs of a friend with osteoperosis and other health issues associated with advancing years!
Open to people with any health condition.
Class Fee: £15 / session. £7.50 concessions. Maximum 5 people per class.
Online on Zoom, most Wednesday afternoons.
Contact Me to discuss your needs.
News / Events
Upcoming Events:
---
Recently Completed: