Events »»» ResourceBalance - London - April 2023
ResourceBalance
Burnout Recovery Support & Personal Resource Balancing




A Mindfulness & Compassionate Touch based Approach

.

22nd April 2023 @ The DOJO , Kensal Green, NW10, London
with Anthony Fidler & Snezhana Stoeva.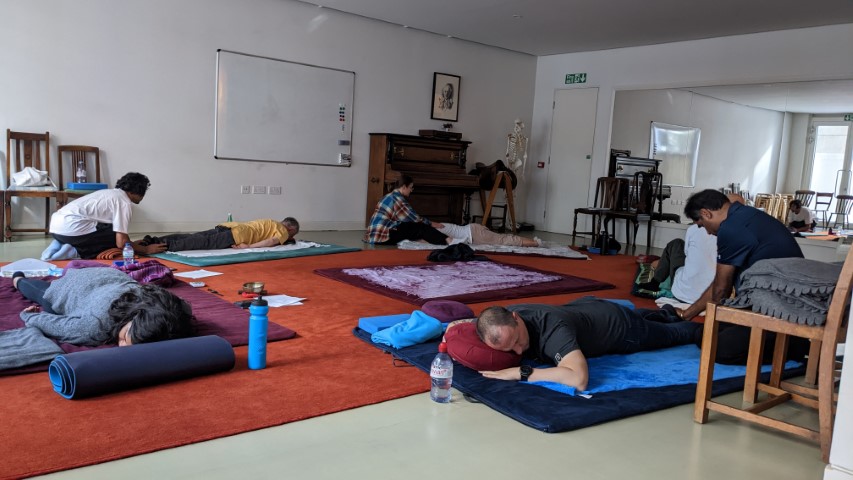 Anthony teaching compassionate touch in London September 2022
By taking this training you will be able to improve your capacity to channel and nourish your vitality in a balanced and effective way.
You will learn about techniques to avoid burnout and we will explore in detail the recovery and support path for people who have already entered the state of chronic vitality burnout.
The aim of this workshop is to facilitate personal transformation and self-learning.
Through group discussions and individual practices, we will learn about the principles of saving and replenishing our energy resources and how they can help us to participate more effectively in the places we work and in our personal lives.
Embodied Mindfulness is a way of being in which you are fully connected with your body and you feel safe. Your mind is quiet and present to your experience of life happening that moment and your heart feels warm and open to yourself and to those around you. This is a state of well-being and good feeling.
It is also a state in which we are more likely to access the creative flow, relate more intelligently and effectively with work colleagues and deal with general life demands in a more resourced and enjoyable way.
Embodied Mindfulness is also an antidote to burnout, though long term recovery will likely require extensive practice, nutritional care and life style changes.
We will explore together how mindfulness & touch based connection practices can help us to move closer towards this state of well-being whether as someone newly caught up in the stress funnel or as someone who has already slid down the burnout spiral.
We are not looking for instant 'fixes'. Whatever our state we are learning to be with ourselves and to be ourselves and just as important we are learning to be fully present with others.
As we transform the way we relate to ourselves, our experiences and the world, symptoms which distress us may also change.
Along the way everyone involved will enhance their capacity to function effectively in their lives whether in the workplace or in ones personal and family life.
And this will touch everything we do in life from then on...
About Anthony: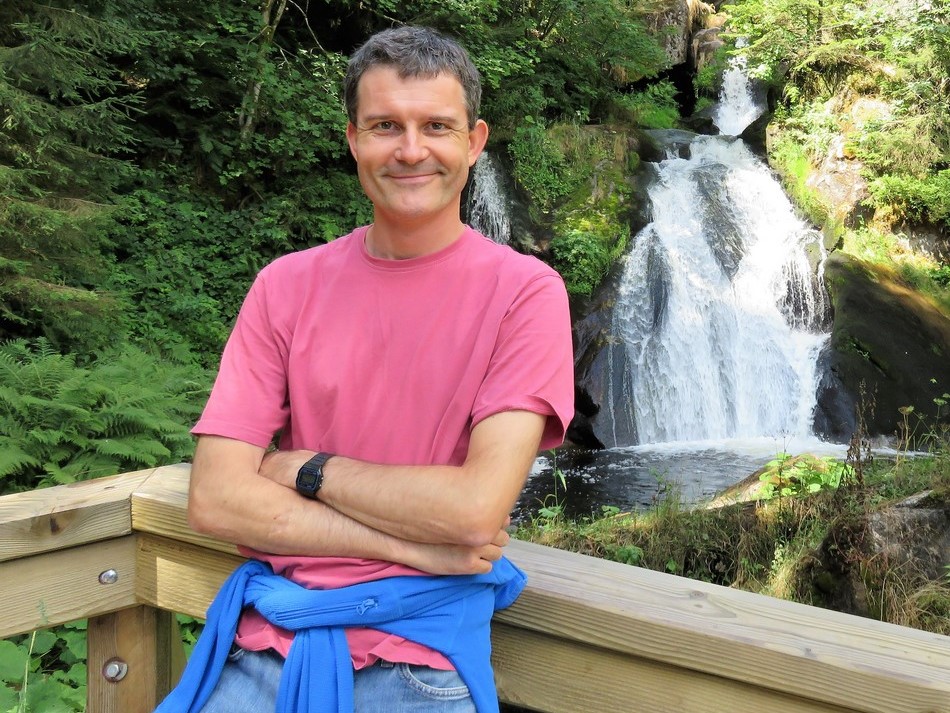 Anthony Fidler
Anthony is a graduate of Cambridge University with a degree in Computer Science and Management Science and has been exploring Mindfulness based meditation, Tai Chi and Ki based Therapeutic Bodywork for the past 20 years.
He had his own journey with anxiety and burnout starting while in his final year at Cambridge in 1992 and continuing through his audit training with Price Waterhouse Coopers and then through his subsequent work as a software programmer.
His own journey of difficulty went very deep, starting with chronic physical and mental fatigue and then continuing eventually to a form of psychosis, though he doesn't see it in a negative light.
Anthony developed his own ways to recover and live a full life and now shares what he learnt with others experiencing extreme states or simply chronic stress situations.
He is a qualified Mindfulness teacher, Tai Chi teacher and an experienced student of the late Akinobu Kishi , the founder of Sei Ki.
Click here for more on Anthony's background and experience
About Snezhana:
Snezhana Stoeva
It was October 2011. I woke up one morning and I hated myself. I hated the fact that I had to get up. I hated my job. I hated my body - I felt heavy and overweight. I was tired of life. I had spent a whole year dealing with the unresolved grief of losing my mother after a long fight with breast cancer. I didn't want to feel, so I kept myself busy up to 20 hours a day. On average 11 of them were spent managing a software company and the rest looking after my family. My youngest daughter was 3 years old and my eldest was 11. My husband supported me as much as he could, though he was dealing with the loss of his father, who had also died recently.
I was destroying myself day by day, but completely unaware of it. My diet was poor, I was taking no exercise, had no hobbies and was not getting enough sleep. The end result was a massive burnout. I slowly began to recover in the years that followed but the real shift happened when I found the Japanese healing art of Shiatsu.
Nowadays, I integrate Shiatsu, Sei-Ki, Do-in, Qi Gong, mindful movement, meditation and Clean Language in a body-friendly therapeutic method to support my clients to the best of my abilities and to deepen my understanding about this beautiful union of mind-body-spirit, also known as a human being.
Snezhana's Website: heartofshiatsu.com
Details:
The event is being hosted by Anthony Fidler & Snezhana Stoeva.
This workshop is open to anyone experiencing stress as a repeated pattern in their daily life and work as well as people experiencing the challenges of burnout.
Workshop size: approx 20 people.
Covid: We will request attendees complete a lateral flow test before attending.
Pricing:
Individual Fee: £120
Concession Fee: £60
Family of Two Fee: £220
Nb. There are some concessionary price places available for those in an unwaged / low waged situation. Please contact me to discuss.
Registration Process:
The event is by invitation. The application process is as follows:
We request that people apply by contacting us
Then complete the application form .
We will then confirm your place on the workshop once you've paid.
So please get in touch if you would like to attend: Contact EasternPeace
Testimonials from similar workshops recently offered for emotional pain and anxiety:
Anthony was really engaging and down to earth with this workshop.
There was plenty of practices to try out and opportunity to reflect.
I learned a great deal which will inform both my own personal growth as well as my practice as a shiatsu practitioner.
I intend bringing some of the practices into my own personal and professional practice.
Thanks to Anthony for his compassionate presence, honesty and heart opening quality to his creative heart-touch approach, may it continue to grow in our communities where it is so needed . Corrinna Bain, shiatsu practitioner.
Corrinna, UK
---
Anthony's engaging and authentic teaching style provides a very grounded approach to this work, inspired by his own experiences and work with Akinobu Kishi
Anon, UK
---
The work helped me immensely.
I have not felt so calm and grounded for a very long time.
I feel the work gave me some valuable tools to calm and ground myself.
Really grateful for the safe and welcoming space that Anthony created and held throughout the day.
Dina, UK
---
I would highly recommend Anthony's training to anyone needing to down-regulate their nervous system and wishing to be better able to connect with others.
Anthony's practices are unique, grounded in decades of training with Eastern masters.
Through these he has discovered what helps him in his moment to moment experience of life.
He embodies his experience with complete authenticity and this is what makes the training so powerful.
I felt really calm and revitalised by the day's workshop and look forward to attending another.
Anon, UK
---
I found the day really valuable.
It was structured and paced in such a way that one activity naturally moved to the next with increased intensity that always felt safe and healing.
Thank you Anthony.
Jo, UK
---
Simple yet such incredibly powerful work.
Exploring these practices in our society which is grossly touched deprived as a means for supporting each other is necessary now more than ever.
Thank you Anthony
Andrew, UK
---
The Heart touch training was an opportunity to develop an understanding of and participate in compassionate based bodywork.
It gave me an understanding of how therapeutic touch can soothe the nervous system and open the human heart.
Joan, UK
---
I would recommend Anthony's workshops and approach.
His focus, exploring our self perception and how to develop and work with this in relation to supporting both ourselves and others, I feel to be very effective.
Adam, UK
---
The HeartTouch workshop was held in a beautiful Zen healing space, and we warmed up into the bodywork practices very gently.
Thank you.
Emily, UK
---
Your workshop was very useful because it gave me a lot of tools to help me relax in a more profound way, acknowledge my feelings and come back to my body.
I also loved the compassionate touch practices.
I found them very rewarding, a great way to connect with other people and to honour our basic humanity.
Monica, Luxembourg
Other Events
Upcoming Events:
---
Recently Completed: